Cost effective and variable.
Large volume refriger- ating and freezer units for installation in station wagons and delivery vans.
transCooler

With the versatile installable/removable transCoolers you can quickly outfit your company cars into refrigerated vehicles. This is how you fulfil the strict transport regulations for temperature-sensitive products without having to buy a refrigerated vehicle.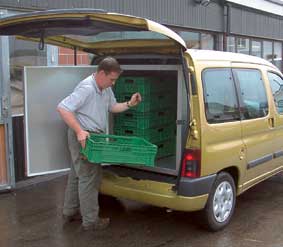 The transCoolers, manufactured according to standard dimensions, have decisive advantages: You can use the vehicles you already have and if you change these, then simply install the transCooler in the new vehicle. As the transCooler does not fill the whole interior space, you can transport refrigerated goods and other transport goods together.


And this is how it works
The transCooler is fastened in the vehicle with bracing belts to the existing lugs on the vehicle floor or is screwed onto the floor with metal angle brackets. For the power connection within the car you require a 6mm safety cable, which is laid from the battery into the loading space (can also be supplied). The installation effort for a car mechanic is approx. 2 hours. A plug connects the cable to the transCooler. This way the power supply can be disconnected easily if necessary. The units are all equipped with an under voltage cutout. This ensures that the battery is only discharged to half capacity and the motor remains ready to start.
The transCoolers are available in several sizes and capacities.
The transCooler Alpha GTA Dig is available for station wagons. For installation in vans you can choose between the Euro-transCooler 8 for 8 euro-pallets and the transCooler 25 for 25 euro-pallets.