Your advantage:
Without external energy supply
Keeps the internal temperature

for up to 260 hours

Solid, long-life casing
Fulfills the stringent HACCP standard for hygiene
Double labyrinth seal
Mobile Climate Box TB3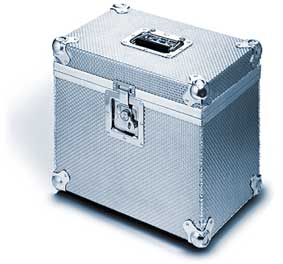 Documented safety for
up to 260 hours
Thanks to innovative vacuum insulation technology, the climate box TB3 keeps its temperature constant for up to 260 hours without you having to supply external power.
The box guarantees safe locking with lead seals so that you can also use it worldwide in airfreight dispatches (see also IATA approval).
You can also use the TB 3 as the small alternative to our active refrigeration boxes, as integrated data documentation is also possible.
You receive data evaluation optionally via an integrated thermo-printer or by data transmission via RS 232 interface on the PC or handheld printer.
Technical Data
Model
TB3
Article number
20003
Passive box with vacuum technology
Dimensions – Weights – Volume
External dimensions:
L x W x H:
440 x 305 x 400 mm
Internal dimensions:
L x W x H:
295 x 160 x 220 mm, holds
e.g. up to 8 thrombocyte bags
Weight empty:
9,6 kg
Volume:
9,9 litres
Material outside:
structured aluminium alloy
Material inside:
seamless deep-drawn
PVC tub
Performance spectrum
Measuring points :
2 sensors with optional logger
Insulation:
Vacuum panels with heat conducting properties = Lambda 4.5mW (mK)
Closure:
Butterfly bolt
(suitable for lead seal)
Safety:
Labyrinth seal,
special closure
Quality control:
Production hand-over record
Autonomy:
up to 260 hours
Options/Accessories
Data logger:
integrated data logger with 2-year long-life battery
Calibration:
yes
Printer:
yes, Thermo-printer
Validation:
IML Fraunhofer Institute
Certification:
ADR/IATA/UN (without options) all models CE
Prices on request

Order Form