The breakthrough in refrigeration logistics – all refrigeration ranges on one pallet!
Your advantage:
Optimise logistics and save on costs: HACCP refrigerating ranges from -18°C to +8°C on one pallet
Optimum PUR insulation and maximum effective volume
More than 24 hours temperature stability
The E2-Isoboxx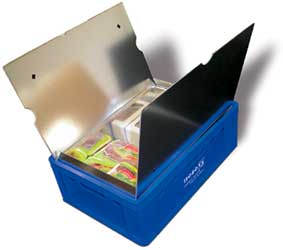 With the new insulating packaging for E2 crates from ThermoSecure you will not only meet the regulations for hygienic transport of self-service packaged food – you can also really save money. Because from now on you can transport the various refrigeration areas together on one pallet. The temperature is determined individually in each E2 crate.
This works very simply: place the pre-cooled goods into the insulated box and add refrigerating agent according to the desired transport temperature. The excellent insulation guarantees that several temperatures can now be transported in the one fresh goods service vehicle.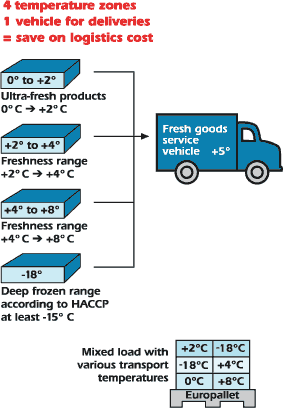 Technical Data »E2-Isoboxx«
Model
E2-Isoboxx
Article number
6A007
Dimensions – Weights – Volume
Effective
internal area:
L x W x H:
535 x 340 x 155 mm
Weight, empty:
0,4 kg
Material:
Break-proof, insulating Kapatherm* insert, double lid with recessed grips
Benefits/Advantages
Hygienic surface
Multiple re-use
Closure with Velcro points
Material is environmentally friendly
Humidity absorption < 0.5%
Coefficient of thermal conductivity < 030
Corresponds with
DIN EN ISO 9001 1994-08
Validation:
IML Fraunhofer Institut


* Polyurethane slabs with aluminium foil lined polyester covering layer
Prices on request

Order Form