Your advantage:
Insulation suitable for tropical climates
Documented safety through integrated monitoring system
GMP-conform hygienic design
Optimum EURO external dimensions (1/2 euro-pallet)
Mobile Climate Box MX75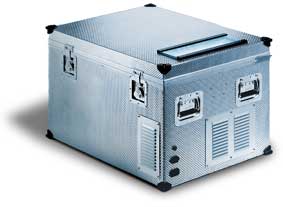 The powerful professional –
so that your goods arrive safely
The stable casing made of a welded aluminium alloy is specially designed for professional use with larger quantities of goods. The full size lid protects the keyboard and allows safe stacking of the box.
The innovative vacuum technology guarantees particularly good insulating properties. In the case of a power failure the goods are protected for up to 30 hours against external temperature. You can rely on the excellent refrigerating performance, even in high summer temperatures – no matter whether with 230 V or in the car with 12/24 V.
The MX75 is equipped with serial data documentation.
Technical Data
Model
MX75
Article number
10075
Active Box – auto-regulative climate box
Dimensions – Weights – Volume
External dimensions:
L x W x H:
795 x 595 x 470 mm
Internal dimensions:
L x W x H:
480 x 460 x 345 mm
Weight, empty:
36 kg
Volume:
73 litres
Material outside:
structured aluminium alloy
Material inside:
stainless steel
Performance spectrum
Adjustable range :
-33°C to + 40°C
Accuracy:
Display accurate to 0.5°C –
Temperature deviation max. 0.9°C
Compressor:
BD 80 special
Fan forced heating:
yes
Power consumption:
maximum starting peak approx. 120 Watt
Power consumption:
dependent on relation internal/external temperature min. 4 Watt
Current consumption:
63 Watt nominal at 230 V AC 50 Hz

Refrigerating capacity:
47 Watt at -32°C internal temperature
Refrigerating medium:
R 404a
Processor control:
yes, with integrated data logger
Power supply:
110 V/230 V alternating current, 12/24 V direct current; automat. switch-over
Safety:
Series: reverse battery protection and overload protection
Insulation:
High-tech vacuum
Closure:
Butterfly bolt
(suitable for lead seal)
Quality control:
Production hand-over record
Options/Accessories
Calibration:
yes
Integrated printer:
optional
Visual alarm:
yes
Acoustic alarm:
yes, suppressible
Validation
model-related, upon enquiry
Special model MX 75 M
military, disaster control, technical aid associations
Prices on request

Order Form