Your advantage:
excellent value for money
short delivery times
high performance range up to -28°C
very energy efficient thanks to 50-mm-strong isolation
TC50K – mobile climate box with autoregulative cooling system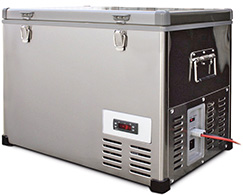 The high-performance specialist for cooling and freezing
The TC50K freezing box has a robust steel housing and is developed for every-day use. It disposes of two integrated hinged handles that make for easier handling.
The box saves energy at high performance ranges up to -28°C thanks to its 50-mm-strong isolation. The exact desired temperature can be set using the digital display. The low-voltage protection can also be configured.
The TC50K comes at a fair price and offers you convincing and dependable quality, also at very warm ambient temperatures – whether at 230 V or in motor vehicles at 12/24 V.
Its "big brother" TC50KHDT has a cooling and heating system and is additionally fitted with a data logger and thermal printer (Article no. 101055KHDT).
Model
TC50K
Article no.
101055K
Active box – autoregulative cooling box
Dimensions – weight – volume
exterior dimensions
L x W x H:
650 x 450 x 490 mm
interior dimensions
L x W x H
500 x 310 x
370/150 mm
weight empty
21 kg
net volume
45 litres
interior material
steel
lock
clamp lock
Performance range
adjustable range
+10°C to -28°C
precision
display adjustable to exactly 1°C
compressor
Secop/Danfoss
isolation
50-mm-strong isolation
energy supply
230 V alternating current, 12/24 V direct current
maximum
power consumption

120 W
low-voltage protection
can be set
Options/accessories
digital temperature display

yes
temperature regulation
yes, Eliwell regulator
(with various configuration settings)
connection cable
12 V (unmounted) and 230 V
Prices on request

Order Form