Your advantage:
versatile technical features
software with various configuration and analysis options, USB, password protection
external monitoring through radio transmitting possible
excellent value for money
high performance range from -28°C to +30°C
TC50KHD – mobile climate box with autoregulative cooling system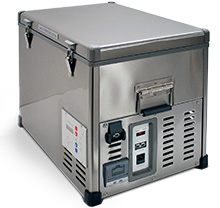 A professional device with
versatile technical features
The high-performance TC50KHD offers you an optimally equipped, diverse cooling/heating system – including Windows software and various configuration and analysis functions, datatransfer via USB, password protection, and much more.
The device can also transmit data to a handheld device (traffic light indicator, reach about 100 m) – particularly suited for function monitoring within the passenger compartment of the motor vehicle. Please make a separate request!
The data logger continues to function using a built-in battery if the power supply is interrupted (without cooling/heating function). The battery is automatically charged during operation with an external power supply.
Bottom line: high performance range for great value with short delivery times.
Model
TC50KHD
Article no.
101055KHD
Active box – autoregulative cooling box
Dimensions – weight – volume
exterior dimensions
L x W x H:
650 x 450 x 490 mm
interior dimensions
L x W x H
500 x 310 x
370/150 mm
weight empty
21 kg
net volume
45 litres
interior material
steel with internal cage
lock
clamp lock
Performance range
adjustable range
-28°C to +30°C
precision
display adjustable to exactly 1°C
compressor
Secop/Danfoss
isolation
50-mm-strong isolation
energy supply
12, 24, and
110 to 230 V
maximum power
consumption

120 W
low-voltage protection
can be set
Options/accessories
data logger and temperature regulation
yes, with microprocessor control and membrane keyboard
thermal printer
yes, for FDA-conform prints
software
yes, with configuration and analysis functions for Windows, data transfer via USB
internal lighting
yes, with operation using external power supply
connection cable
12 V (unmounted) and 230 V
optical alarm
yes
acoustic Alarm
yes
Prices on request

Order Form